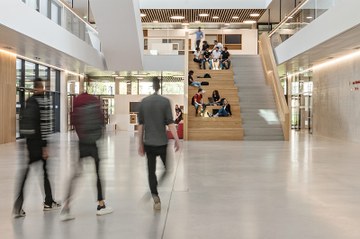 Experience the St. Pölten campus inclusively
Around the European Day of Inclusion, St. Pölten University of Applied Sciences and Bertha von Suttner Private University, in cooperation with the Office for Diversity of the City of St. Pölten, are organizing an action week on the topic of inclusion for the first time.
Students and employees of the St. Pölten campus, as well as interested people from St. Pölten and beyond, especially people with different experiences of disability, are invited.
Open campus 
As part of the "Open Campus", individual courses and student projects open their doors and introduce themselves to interested persons. In addition, a diverse, practical, critical and creative program invites you to participate and inform yourself.
In the wide range of workshops and lectures, different topics and dimensions of inclusion, disabilities, working and studying will be highlighted.