campus.stories: Christian Kieslinger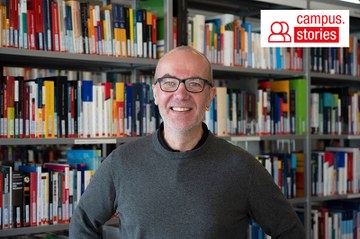 We have asked the head of our library what he is particularly looking forward to when it comes to the new campus
Christian Kieslinger is head of library at the St. Pölten UAS, which currently holds approximately 50,000 media on an area of 400 square metres.
The relocation to the new campus means that the library will also become bigger and more modern yet: subdued colours, high-quality furniture and even more sitting space will offer a comfortable atmosphere for studying and working.
In an interview, Christian Kieslinger tells us how the new library will meet the needs of modern learning and what he is personally looking forward to most of all.
What is it that makes the new campus a "Campus of the Future" for you?
Kieslinger: The building design and equipment of the new campus support modern learning and working in the best possible way. For example, there will be both communicative and quiet zones that are ideally geared towards the individual needs of our students, lecturers and staff. In addition, the modern construction and additional air conditioning will ensure pleasant temperatures all year round.
What are you looking forward to in particular?
Kieslinger: The direct access to the outdoors is a special perk for me! The new library will be directly adjacent to the campus garden, which means that staff and students can study, work or simply relax outside at any time – at least during the warmer months.
How will your daily work change?
Kieslinger: I think my work will stay essentially the same. I will, however, enjoy working in an even more appealing environment and will certainly profit from the new, modern equipment. And I will surely seize the opportunity to directly access the garden rather frequently.
What can the students expect from the new library?
Kieslinger: The students can look forward to even more space for reading and working. There will also be a designated "quiet area" that provides the necessary silence for concentrated studying. We will benefit from certain technical upgrades – for instance, we will have a new and barrier-free book scanner.